Crazy Rich Asians Movie Fashion: Copy the Looks
Posted on August 28 2018
Crazy Rich Asians Fashion Inspirations: 
(Warning, minor spoilers below)
Wow! There's so much to love about this movie! From the charming & sweet Nick Young (Henry Golding) to the intellectual and loving Rachel Chu (Constance Wu), this movie was enjoyable in so many ways. However, what caught our attention the most (aside from the extra-AF houses, cars, food and pretty much anything else), was the fashion. This movie definitely made me feel poor, sitting there in the movie theater, eating my popcorn while watching the characters splurge and dressing in clothes I dream of!  However, the fun thing about fashion is that once inspiration takes place, only your confidence is needed to feel fabulous! Here are some of our favorite looks that you can easily mimic. 
1. Simple and Clean
The "not so glamorous" red dress that Rachel's Mom suggested was adorable! Sure it was not up-to-par with the world she was about to be introduced to, but it's definitely a simple, clean and classic look. Rachel doesn't know anything about the world she's about to discover but regardless we love this look! This cap sleeve drop waist red dress is perfect for date night and bonus it's so comfy to frolic around in! 
2. Fresh Florals
What I love about Rachel is that she clearly proves that simple classic looks can still make a bigger impact. One of the biggest conflicts that Rachel faces is that although by blood and appearance she is Chinese, she does not have Chinese cultural characteristics, and even more so, she doesn't know anything about wealthy Chinese customs. Everyone around her in this movie looks super glamorous, but what makes Rachel so love-able is her kindness and how she can take a classic look to speak volumes. We love this look because its so versatile, it can be used as a wedding guest look, a romantic date look or a casual day-time look, regardless, a girl can never go wrong with floral.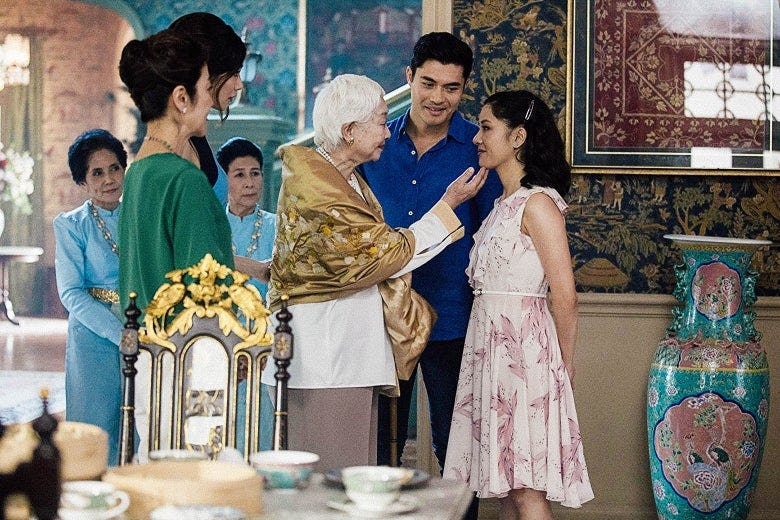 3. Bad and Boujiee
Ok time to skip all the cute simple looks (which I really do love but this movie is about Crazy. Rich. Asians) There are so many glamorous looks in this movie! However, a common theme in a majority of the outfits are sequins and shimmer, specifically gold. One would think they are celebrating New Year's every day, that's just how these characters roll! One notable look was the gold sequin jumpsuit that Araminta (Sonoya Mizuno) was wearing before the grand bachelorette party. We also really loved the wedding guests attire and outfits Rachel was trying on before dazzling the audience red-carpet-style in the modern Cinderella light blue gown. 
Don't forget to shop our online women's fashion boutique for great deals on your favorite brands and designers. Sign up to get a discount code of 15% off on your first order! Fast & free shipping, easy returns.
Ok time for me to go out there and find me a Nick Young! 
What did you think of the movie? Which character do you think had to best or the worst fashion style? Let us know in the comments below!