Mean Girls Day
Posted on October 03 2018
Happy Mean Girls Day! 
Today is the ultimate day for us Mean Girls fans, look at your calendar because it's October 3rd which also happens to be a Wednesday! And on Wednesday's we wear pink!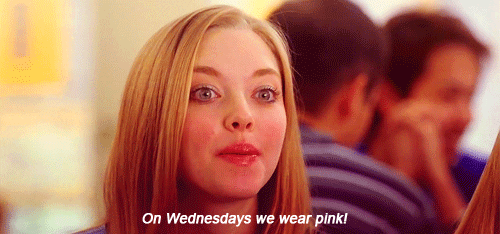 Okay maybe not all pink, but Halloween is around the corner so today is the perfect day to recreate two of our favorite Mean Girls looks for either inspiration or for costume purposes.
Regina George:
 Regina George, the ultimate queen bee and trendsetter of North Shore High, was always wearing a pink piece whether it was Wednesday or not. She sported graphic tees that expressed typical teenage angst, with mini skirts to show off her sexiness, such as this Rebecca Minkoff Leather Mini Skirt. She still kept it somewhat modest by adding a signature cardigan to complete her look. Finally, she would walk down the hallways with bold confidence with heels or pumps, such as these Aquazzura Wild Thing Pumps. Whether or not you're vibing' Regina George, this would make a great Halloween look and everyone will know who you are, if not they might just end up in the burn book!
Cady Heron:
Cady Heron, the main character and protagonist in Mean Girls goes through a complete style change of wardrobe (and attitude) through out the movie. We love Cady before the plastics got to her. She had a simple attitude, simple look at life and simple yet effortlessly beautiful sense of fashion that would actually look great in 2018. In the movie cover, she is seen wearing boot cut jeans (such as these Henry & Belle Micro Flare In Ultra Clean) with a red long sleeve tee (such as Metric's Seamless Long Sleeve Tee) that hugs her shape. She completes the simple look with a pair of boots that peep out from her jeans, we love these Schutz Bette Floral Booties as an example. 
"On Wednesdays We Wear Pink"
Last but not least, create your own "grool" Mean Girls look! Modernize it and style it anyway you want but don't forget pink! Above we created our own look using Schutz Primm Block Heel, a comfortable and versatile strawberry sweatshirt by LNA, complete with these ultra chic AMO Stix Crop Jeans in Spin the Bottle. 
We hope you enjoyed these fetch looks! Whats your favorite Mean Girls moment or quote? Share with us in the comments below!