The Ultimate Moira Rose Style Guide - Moira's Best Looks on Schitt's Creek
Posted on December 01 2020
Moira Rose's Best Looks on Schitt's Creek
Catherine O' Hara plays Moira Rose, in the hysterical sitcom Schitt's Creek. Moira and her family go from riches to rags after being defrauded by their business manager, leaving them with almost nothing. They are forced to unwillingly relocate to Schitt's Creek, a small town they once bought as a joke. The show follows the once-wealthy family as they struggle to fit in with the small-towners. Moira plays one of the many funny characters on the show but what sets her apart is her over-the-top personality and style. The former daytime soap opera star with a closet full of bold patterns, blacks and whites, and distractingly good jewelry is theatrical in every sense and we cannot get enough. Throughout the series we see her in designers like Cynthia Rowley, Stella MCcartney, Isabel Marant, MSGM and tons of Alexander McQueen. 
Who is Moira Rose's character inspired by?
Her character is inspired by Daphne Guinness, an English socialite and fashion designer. If you've never heard of her the pics below will give you an idea. The similarities in style is on point. 
How can I incorporate Moira's style into mine?
Moira has given us so much inspiration throughout the seasons. Not only are her looks fashionable, but they exude uniqueness, creativity and confidence. So if you're looking to channel your inner Moira or want to create a Moira Rose costume, then you've come to the right place. First we'll start with a few tips:
Seek out feathers
Add statement jewelry 
Wear black and white clothing
Invest in a Wig
Pay attention to detail
Throw in some sequin
Now that we've covered the basics, we'll get to the good stuff. Unlike the former celebrity, we are not fans of over-priced clothing. That's why we created this guide on how to dress like Moira Rose from Schitt's Creek on a budget. Below is a list of Moira Rose's best outfits throughout the seasons. We hope you love it!
How to Dress Like Moira Rose from Schitt's Creek on a Budget
Look #1. Moira the Councilwoman
In season 3 episode 2 we see the ex-socialite dressed head to toe in houndstooth. We love this look on Moira because she looks professional but also fashionable (and very bold). Copy this style by pairing houndstooth clothing with Marie Antoinette heeled loafers. If you're feeling edgy, clip on some chains and wear a short brown wig. Take a look at our picks below:
Look #2. Rock on Moira
You can never go wrong with a fabulous rock star get up. Here Moira is wearing a metallic top under a shiny crinkled leather jacket with grommets. The layers of statement jewelry feature silver chains with studs, rhinestones and tassels. She's rocking blonde, short and wavy hair with a red lip. You can adopt this look with the items below:
Look #3. Moira in Color?
Colors are not something we normally see on Moira. Here she's spotted in a purple midi watercolor dress. You can copy this 'colorful' style with a long sleeve tie dye or watercolor printed dress. Finish the look by adding a dark colored statement necklace and lace up wedge booties. 
Look #4. Moira Sitting in Sequin
Next is one of our favorite looks on the list! In season 5 episode 5, Moira lounges in a sequin jacket while watching 'Not Without My Cousin' on Lifetime. Saying Moira is overdressed for this occasion is an understatement, but we are here for it.  
Look #5. Moira at Choir Practice 
In season four's episode Pregnancy Test, Moira takes on a Beetlejuice vibe in a black and white vertical striped dress. Vertical stripes are a great pattern as they give you a slimming look and make you appear taller. Adopt this outfit by wearing a vertical striped dress, top or skirt and black tights. If you're tall, opt for horizontal stripes if it makes you feel more comfortable. 
Look #6. Moira's Go-to Gown
Moira is always looking to make a statement, and what makes a statement more than ostrich feathers? In Season 6 episode 5, Moira strikes a pose in a double cape tulle gown with sequin and ostrich feather plumes by Pamella Roland. Take a look at our picks inspired by this glamourous little number below:
Look #7. Moira at Asbestos Fest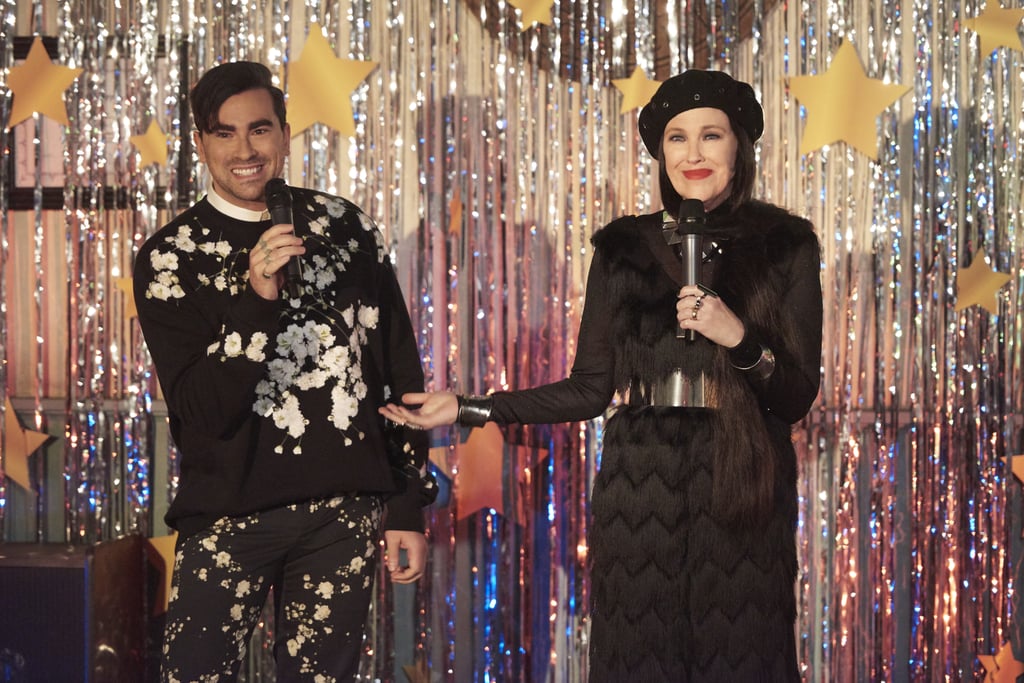 Next on the list is Moira's Cher inspired look from season 4 episode 3. Moira prepares for her headline debut at the annual Schitt's Creek Asbestos Fest in an all black chevron pattern dress featuring faux fur and fringe. Copy her outfit by taking on a subtle but bold pattern, fringe or faux fur. Take a peek at our picks below:
Look #.8 

Moira as Sally Bowles from Cabernet
In season five's finale episode, Moira shows up backstage at the local "cabaret" production dressed as the main character, Sally Bowles. Although she's in full costume, there's still an essence of Moira's style present. Make this look your own by wearing pinstripe pants with a sleeveless collared top or vest and a statement bracelet.
Next, How to Dress Like Alexis Rose from Schitt's Creek on a Budget
Signup & Get 15% off Your First Purchase